Contents
Examples
1 High performance photodiode
2 Battery powered gas sensor
3 High gain audo amplifier
4 Electrochemical buffer
5 Current sense amplifier

1 High performance photodiode
A photodiode generates a current proportional to incident light. A transimpedance amplifier will convert a current into a voltage, and a typical circuit is shown here, with the photodiode shown as current source with its stray capacitance.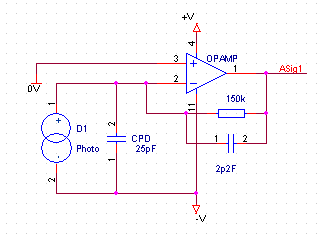 As the sensitivity of the circuit is proportional to the feedback resistor, and the resistor noise is proportional to the square root of the feedback resistor, best signal to noise performance is achieved with the highest possible feedback resistor value. The problem that limits resistor value is loop stability, as the photodiode capacitance introduces a phase shift when coupled with the feedback resistor. The feedback capacitor can provide stability if the opamp has enough gain bandwidth. The circuit values give a rolloff at 500 kHz, where the loop gain is 12, so the opamp needs gain-bandwidth of at least 18MHz for stability. The filters are set to show devices with a bandwidth of at least 1.8MHz at a gain of ten, and a current noise of less than 0.11pA Hz-0.5.



24 devices are shortlisted as suitable candidates.

2 Battery powered gas sensor
Gas monitors for personal safety need to be portable, and hence battery powered. For a system running on two alkaline cells, the opamp must run on a supply range from 2.3V to 3.3V, and to maximise battery life it must have a low current consumption. The sensor provides a signal of only 10mV, so DC accuracy is important. The processor can auto-zero the system, but low drift is important. The filters are set to show devices with a minimum supply of 2.3V or less, 1.5uV / degC offset drift and less than 20 uA of quiescent current consumption.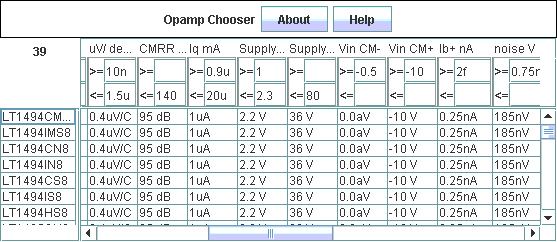 39 devices are shortlisted.

3 High gain audo amplifier
Hifi audio amplifiers are surrounded by a mystique which is not amenable to quantative analysis. Nevertheless, sound engineering practice need not be abandoned and the speed requirements are quantifyable. If you need a gain of 100 and a bandwidth of 20kHz, then the closed loop gain bandwidth product is 2MHz. As the open loop gain bandwidth should beat least 10 times greater than the closed loop gain bandwidth, the amplifier needs a GBW >= 20MHz. This is a situation where the decompensated amplifiers are likely to be suitable, so the bandwidth data for a gain of 10 should be selected, and the minimum required bandwidth is 2MHz. Audio amplifiers are usually run with high supply rails, and may need to supply significant output current. The screenshot shows the maximum supply set to 33V, and a minimum output current of 10mA. The final filter setting is for voltage noise, which should be low. Only dual opamps are shown.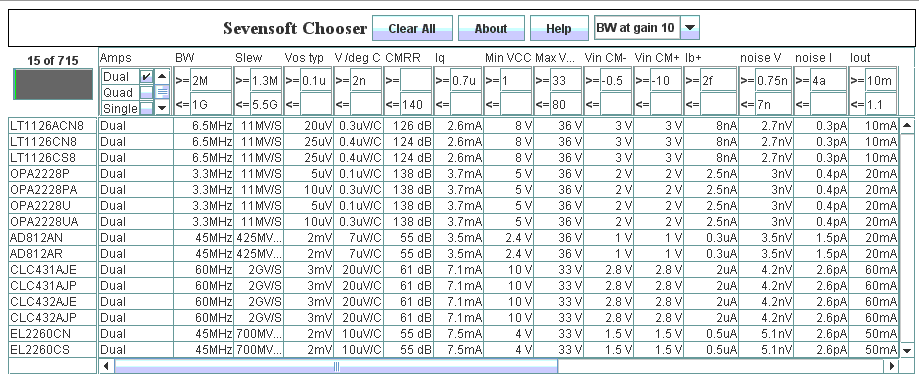 15 devices are shortlisted, which include opamps intended for video signals. If the source impedance is high, filtering on input bias current would be the next step.

4 Electrochemical buffer
Many electrochemical sensors such as pH sensors have a very high equivalent source resistance. This means that only very small currents can be drawn before errors are introduced. To minimise leakage paths, a design places a buffer amplifier near the sensor, so we are looking for a device in a SOT23 or SC70 package. The sensor has a maximum rated output current of 100pA, and buffer offset voltage should be less than 1mV. The supply voltage is 3.3V. The limits placed on offset voltage and input current are tighter than the spec to ensure there is margin.



8 devices are shortlisted.

5 Current sense amplifier
A system needs to detect whether an accessory is plugged in or not. This can be determined by sensing the current that the accessory draws, which is between 25mA and 55mA. The supply voltage for the accessory is 21.5V to 26.5V with a short circuit current capability of 1.5A. To ensure the current sense resistor can survive fault conditions, it is kept down to 0.1 ohms. An opamp is used, configured as a differential amplifier with a gain of 100. The threshold input voltage being detected is only 2.5mV, so the target for the input referered error is less than 0.5mV. The large common mode signal means that the opamp needs a common mode rejection ratio in excess of 95 dB, and the common mode range must be within 0.2V of the positive supply rail.



9 devices are shortlisted.